07.08.2017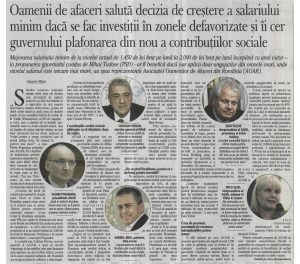 Ziarul Financiar and TVR1 reflected an event organized in mid-July, by the Romanian Businesspeople Association (AOAR), whereby the entrepreneurs ask the government managed by prime-minister Mihai Tudose to adopt a set of measures encouraging investments and supporting the development of companies with Romanian private capital.
According to Mrs. Anca Vlad, Vice-President of AOAR, the current legislation on maternity benefit and leave (a benefit which is currently 85% of the net income, and the leave of up to 2 years) affects the companies' business plans: "We are facing a personnel crisis which is emphasized by the fact that very many persons go on parental leave, with the elimination of the ceiling on the benefit granted to the mothers. We made a calculation, and if an employee with an income of RON 2,000 per month, who is granted a benefit amounting to RON 1,700, were encouraged to return to work for half of the benefit value, plus the salary, the state would gain over RON 600 per month, and also we, as employers, would be gaining."
"We cannot change taxes all the time and play with them. We need to reach a decision, a good decision, and then to implement it and to know that we can count on it for 10 years", Anca Vlad pointed out.
The measures proposed by AOAR also include the fiscal consolidation of the groups of companies with Romanian capital, so that they are granted the same fiscal treatment as the multinational companies, which consolidate their revenues in their mother countries. Such a measure could, according to the businesspeople, turn Romania into a regional hub for investments. Another proposition advanced by AOAR is the implementation of the reverse charge on VAT between companies, to eliminate VAT fraud.
(the complete material is published on www.zf.ro)