07.06.2019
The most influential and successful women in various fields of activity were awarded, at the Capital Gala – Top 100 Successful Women 2019, a manifestation that acknowledges the ambition and merit of the most powerful ladies in our country.
On this occasion, Anca Vlad, President of Fildas-Catena was designated "The Most Powerful Business Woman in Romania."  The award was handed over by the Executive Director of Capital-Evenimentul Zilei Group, Virgil Munteanu, CEO of Catena, Alina Marinescu, present at the gala along with Otilia Ostroțki, CEO of Tonica Group, Daniel Marin, CFO of Fildas-Catena and Sorin Chirculescu, Marketing Director of Catena.  
After the award ceremony, Alina Marinescu read a message from President of Fildas-Catena, Anca Vlad: "I congratulate all the winning ladies from this evening, I believe in the Romanian female business and entrepreneurship, the fundamental landmarks and components of Romania's development. This recognition of our merit makes me very glad, we are proud and honoured for this award, I thank the team with all my heart for the achievements obtained in the 20 years that Catena pharmacies have become the number one brand, 100% Romanian, being always there for the Romanians, in the promoting actions of healthy lifestyle and in charity and social campaigns. Thank you and I wish you every success for the future!".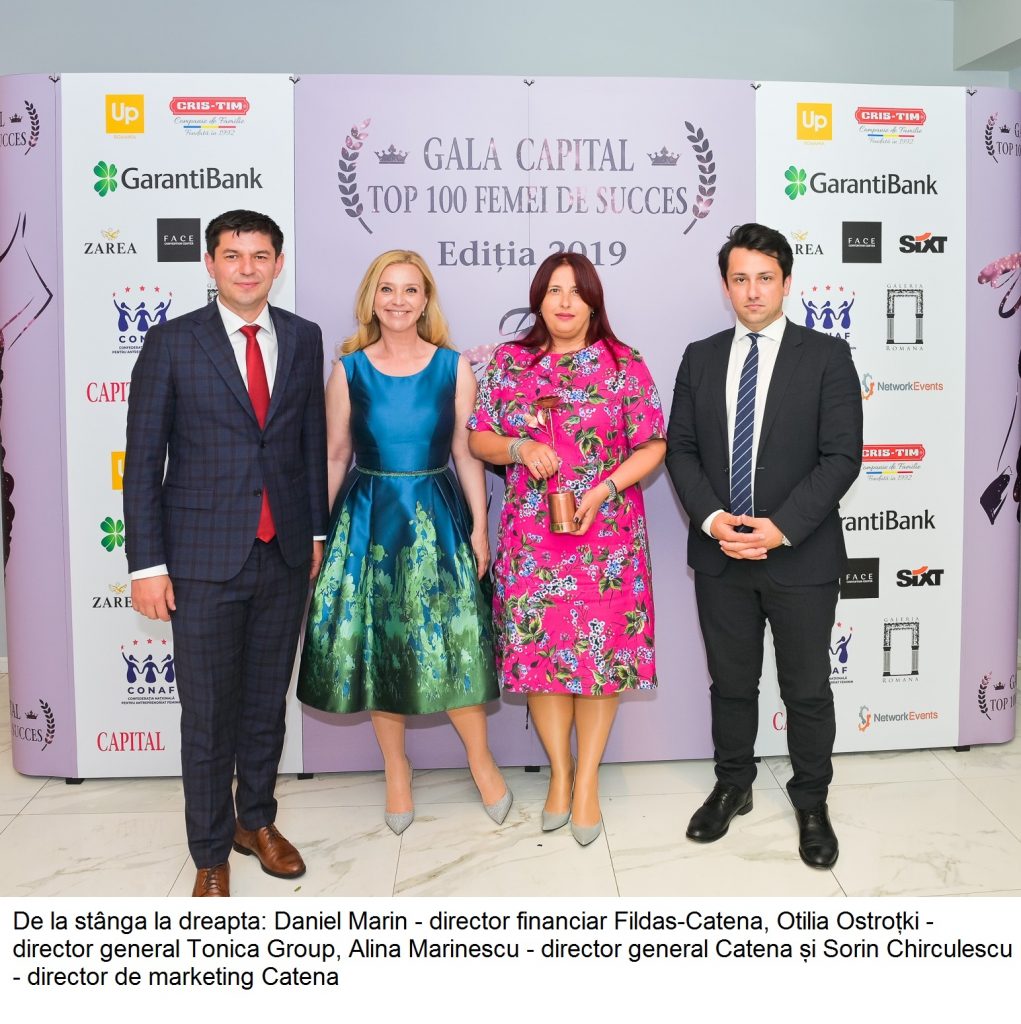 The organizers have reasoned the award of the distinction "The Most Powerful Woman in Romania" to the President of Fildas-Catena, Anca Vlad: "There is no doubt that the women business environment in Romania is experiencing an increasingly accelerated development, as more and more companies co-opt women representative in their management and an ever-increasing number of companies are run by women entrepreneurs. Anca Vlad, creator and owner of Fildas-Catena, is the only woman to make it the top 10 of the Romanian millionaires in the Top made by Capital magazine in 2018, Catena being the largest network of pharmacies in Romania".
Anca Vlad is the founder of one of the most powerful pharmaceutical groups, Fildas-Catena, currently having more than 6,400 employees. Catena is the number one pharmacy network in the pharmaceutical retail sector in our country, and Fildas Trading is the second largest retailer in the field in Romania.
Recently, Anca Vlad, President of Fildas-Catena was awarded the "The most Influential Business Personality" trophy at Forbes Woman Gala, at its eighth edition, ranking first in 2019 in the "Forbes 50 Most Influential Women in Romania" Top for the second year in a row.