05.12.2017
Considering that women have a more and more important role in Romanian society and that this role must be appreciated at its true worth, Capital magazine wanted to highlight these aspects upon celebrating its 25th anniversary since its establishment.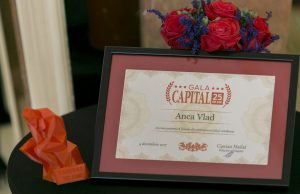 As such, Capital Top 100 Most successful women in Romania – 2017 edition – has changed its structure, and for the first time ever, the 100 personalities are divided into 10 professional categories: entrepreneurship, CEO, politics and public administration, law, consultancy, marketing and PR, sports, science-art-culture, journalism-celebrities and social involvement.
Under the "Entrepreneurship" category, the first place was granted to Anca Vlad, the founder and owner of the Fildas-Catena Group, with 405 work points, scoring 30 more additional points, as compared to the previous edition. The award was granted during the 25 years Capital Gala, which marked the anniversary of a quarter of a century ever since the establishment f the renowned economic magazine. In the general top, Anca Vlad holds the third position, first place being granted to the well-known tennis player Simona Halep.
The team from Capital magazine established the criteria which represented the basis of the chart, as such, the highest score was granted as per the achievements in the past 12 months, whilst notoriety was the second criterion, based on importance. In addition to these, the following areas were also scored: career, social responsibility projects in which the successful women were involved in Romania and material status. Thus, each category was granted a maximum of five stars.
40 points were granted for each star from the achievements category, whilst for notoriety, each star was granted 20 points. Under the categories career and social involvement, one star received 15 points, and the financial status was scored at 10 points for each star. In other words, the weighting would be as follows: 40%, 20%, 15%, 15% and 10%.
See HERE the full article in Capital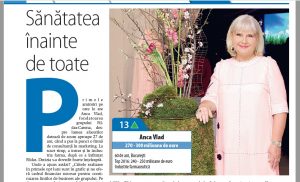 On the other hand, in the Capital Top 300 business persons, Anca Vlad was named the most successful business woman in Romania, with a fortune estimated at 240-250 million Euros. The founder of Fildas-Catena ranked no. 13 in the general top, and the first place was granted to former tennis player and current business man Ion Tiriac.