04.12.2017
The group founded by the most powerful woman in the Romanian business ended the year 2016 with a record balance, shows the latest edition of Top 500 Forbes Romania, in which Anca Vlad, the founder of Fildas-Catena, is on the 10th position, increasing by 3 positions as compared to the previous edition, with a fortune estimated at 700 million lei.
The Fildas Group had in 2016 a turnover of over 650 million euros and currently has over 5,000 employees. In a highly competitive market, such as the one of the distribution and sales of medicines, the turnover increase from one year to another by two percentage points represents a performance that cannot be overlooked, Forbes writes.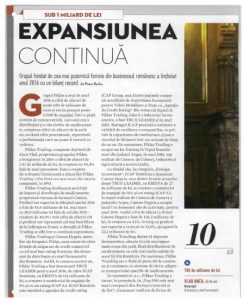 Fildas Trading, a company owned by Anca Vlad, the owner of the Fildas Group, recorded in 2016 a turnover of 2.41 billion Iei, increasing by 44.4% as compared to the previous year. It is a downright fulminant growth of the Fildas Trading business, the turnover being the highest from the history of the company. Fildas Trading was ranked No. 5 in the Top 500 Forbes Companies.
Fildas Trading carries out activities for the import and distribution of medicines, and operates the Catena pharmacies network. The net profit reported at the end of 2016 was of 95.8 million lei, higher by 50.0 million lei, as compared to the one in 2015, an increase of 49.3%. Both the turnover and the net profit represent the best balance since the company was established, a proof that Fildas Trading is in a continuous expansion, the Forbes article shows.