10.08.2017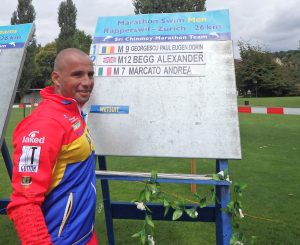 Supported by CATENA, the swimmer Paul Georgescu, the fastest Romanian to swim across the English Channel, has won the 30th edition of Lake Zurich Aquatic Marathon, SRI CHINMOY MARATHON-SCHWIMMEN 2017, which is considered to be the hardest contest of its kind in the world.
An honorary member of the Catena Racing Team, multiple swimming champion and record-holder for crossing the English Channel, PAUL GEORGESCU, supported by coach Matei Giurcaneanu and his team, was clearly ahead of his competitors in the category "without a wetsuit".
Thus, Paul Georgescu swam continuously 26.4 km in 7 hours and 11 minutes, almost half an hour faster than the runner-up.
The Romanian sportsman will face a new challenge, on 15 October 2017: the OCEANMAN final (Benidorm, Spain).
GOOD LUCK, Paul Georgescu!