23.03.2017
The 16th edition of the Christmas Tree Festival, an event organized by Save the Children Romania to the benefit of thousands of poor children at risk of school dropout, was organized on Thursday evening, on the 8th of December, within the Stejarii Country Club. The gala presented by Amalia Enache and by Mihai Bobonete was honoured by the presence of more than 300 personalities in the business environment, media, culture and sports.
Within the event, 14 Christmas trees were auctioned for charity, from the 27 that were exhibited, the most expensive being created by the famous fashion designer Catalin Botezatu & ARC Metropolitan School, purchased by Catena, through Mrs Anca Vlad, president of Fildas-Catena Group. Catena was also one of the main sponsors of the festival, in the Diamond category. The story of this Christmas tree is, in itself, the story of childhood and of the dreams that this is made of.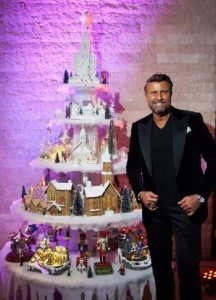 "The Christmas tree I created for this magical evening is one showing us childhood as it should be for every child: one of stories, honesty, and love. I am tremendously happy that the magic of the Christmas tree will get where it should, to the children who need it", stated designer Catalin Botezatu on this occasion.
Gabriela Alexandrescu, Executive President of Save the Children Romania, emphasized that the purpose of the Christmas Tree Festival is to reduce school dropout. ""We would like to thank all the designers and the generous people who stood by our side. Without the generosity of our sponsors, this would not be possible. We would like to thank all the companies, designers, public persons and everybody who supports us and trusts that, together, we can give these children a chance to education and to a decent future", added Gabriela Alexandrescu.
This year's edition of the Christmas Tree Festival set a record, following the auctioning of the Christmas trees, as approximately 520,000 EUR was collected to prevent school dropout, from the raffle tickets and from sponsorships, which is the highest amount over the last ten years of this event.